Holitel Tsell Harim Village Dead Sea
Please click HERE for on-line reservations
The Hotel - 2014 - hotel is undergoing renovaions
Tsell Harim is one of The Dead Sea area's most unique hotels. Two floor bungalows surrounding a beautiful pool backing onto The Dead Sea provide the perfect location for your Dead Sea vacation.
Tsell Harim hotel has its own health spa, dead sea water pool, large outdoor swimming pool and private adjoining Dead Sea beach. A selection of rooms have private solariums.
Tsell Harim is the ideal solution for those seeking to rest and relax.
Tsell Harim offers entertainment, a restaurant and bar for your evening pleasure. The hotel is situated in The Ein Bokek area close to a variety of 5 star hotels, two shopping centers and various restaurants.
Rooms
The Tsell Harim hotel has 160 air-conditioned rooms and suites.
Unlike most other hotels, Tsell Harim is not built as a single complex, but rather laid out as a village.
This enables easier access to rooms and facilities, which is especially useful for those who wish for a true vacation, free from time wasted in endless hallways. It is also very convenient for handicapped people. The rooms are comfortable and spacious and offer a work desk, phone, couch, cable TV, radio and an option for sun deck. Of course, there are also comfortable beds and a bathroom.
Tsell Harim is the only hotel on the Dead Sea that offers you the rooms with a private solarium for sun-tanning.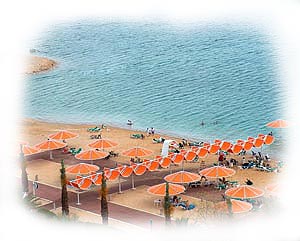 Please click HERE for on-line reservations
Dead Sea Hotels
Tsell Harim Dead Sea hotel